The first place I ever went on an overseas holiday was Singapore. It was 1981 and I was 8 years old! The biggest impressions for me then were the vibrant tropical colours and the amazing smells of so many different dishes being cooked outdoors. It was an extremely busy place with everyone seemingly having a great day. Fast-forward to 2015 and all the sites and smells remain, in combination with a massive infrastructure and population explosion.
Last week's Izway Wines visit was organized by my great mate Wei Min Toh from Richfield (our importers) and another great mate Andy Ang from JP Morgan Private Banking. A large dinner was arranged for a group of Andy's co-workers at JPM at Dolce Vita Restaurant, Mandarin Oriental Hotel, with some new Izway wines matched to some stunning Italian food.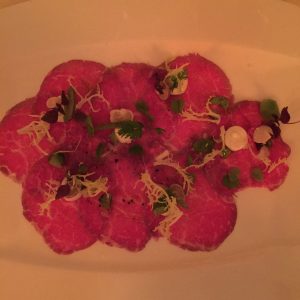 As with my previous two trips for Izway, the standout wines at this dinner were the Grenache (2013 Maurice) or Grenache blends (2013 Mates). In fact, all the meals we had went well with our Grenache wines. The 2012 Bruce Shiraz was also a fantastic match for the Australian lamb but I kept going back for more Maurice!
No matter what dish we had, but with particular reference to the really spicy stuff, Grenache held its ground, in fact in most cases the chilli spice takes the wine and the food to a new level of complexity and certainly kicks the old adage that spicy/chilli based food is best with beer.
Every wine has its food matches based on, among other things, history, personal preference or the actual wine region you are dining in. In Singapore, I truly think its perfect match in a red wine is Grenache. Preferably, this would be a Barossa Grenache of course, but any well made Grenache that has texture, tannin, little to no new oak, fine acid to clean up the finish and the all important Grenache perfume in youth or savoury spice with age would pair well.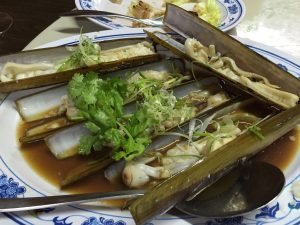 I also had a great opportunity this time to try some stunning wines from my gracious hosts Richfield and Andy Ang (see photos) at the stunning New Ubin Seafood Restaurant. Smack bang in the middle of an industrial estate, surrounded by car wreckers, this place is an absolute revelation and the perfect spot to fill the hunger/thirst pangs after being thrashed at the Raffles Country Club Golf Course. Guided by Mr SM 'Bruce Lee' Pang, we were treated to an absolute feast that captured and respected so many of the incredible flavours of Singapore, as well as some incredible US beef and Aussie lamb cutlets.
Other outstanding places to visit were Kytoshi Ryori Japanese and Sungei Rd Laksa (which is not actually on Sungei Rd; find on Google). The Laksa was $3 a bowl and you will not get better Laksa, such fine flavours. The boss is still making it from the days when he was pushing a cart around in 1956. Delicious.
If you have some spare time to get up to Singapore, give us a yell first so we can tell you where to buy our Grenache.
Brian Conway