What a difference a week makes. Outside the temperature is a comfortable 22°C and there is a gentle breeze. This is quite a contrast to last week's hot and windy conditions which saw a bushfire rage through the mid north of SA. Last Wednesday looking out to the South West we could see there was trouble brewing. Out on the horizon there was the obvious glow of a bush fire in the distance. It wasn't long before that distance shortened dramatically with that hot blustery wind blowing in our direction, the fire was headed our way. We went from comfortable to holy shit in about 15 minutes, the intensity and speed of the fire was incredible. The fire came within 1.5km of Izway wines we were saved by an unexpected with change which blew the front north of us.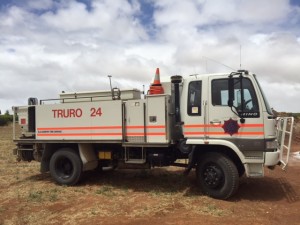 It was an incredibly close call and we can only speculate what might have happened to the Barossa if the strong westerly had continued. There are a handful of isolated incidents of a few vines being directly affected, mainly by radiant heat, but we are extremely lucky compared to our grain and livestock growing counterparts over the hill. The bravery and fearlessness of our volunteer fire fighters (the CFS) as well as the heroism of the fire-bombing aircraft cannot be overstated, but if the wind hadn't have changed the fire would have almost certainly burned large parts of the Barossa.

We've had a few people ask us what affect this fire will have on the grapes being used in the 2016 vintage. From a fruit quality perspective it is too early in the growth stage for smoke taint to be a serious issue and the recent high winds mean that any soot/ash that has settled in bunches has blown away. Only time will tell but we're just happy to still have a place to call home and a winery standing in which to make the 2016 vintage.