The 'Izway Discovery' enables you to taste through a variety of wines each year without leaving your house. Signing up for the 'Izway Discovery' ensures you two shipments of a selection of Izway Wines. A case of the Izway staples in April and a case of the year's 'Blue Label' wines in September.
Coming into Autumn and to see you through Winter, our popular cellar door wines; Mates, Rob & Les and Bruce are the perfect progression of wines to suit the seasons.
The 'Blue Labels' are a series of wines we produce for esteemed establishments, separate to our cellar door range.
Through the 'Izway Discovery' you can enjoy at home these easy drinking and expressive wines which you might find at your local wine bar. Each year the Blue Labels vary based on the years yields but are always unoaked and fruit driven. As the weather warms up these wines are perfect for Spring / Summer drinking. They can be enjoyed straight from the cellar or on a hot summers day we like to pop them in the fridge for a refreshing drink.
By joining the 'Izway Discovery' you will be able to enjoy the wines at 10% off the total value along with the convenience of them being delivered to your door at no charge.
2018 APRIL Shipment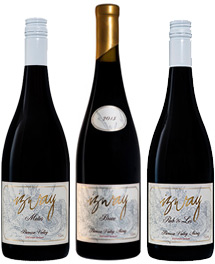 4 x 2016 Mates Aglianico Mataro
4 x 2015 Bruce Shiraz
4 x 2016 Rob & Les Shiraz
2018 September Shipment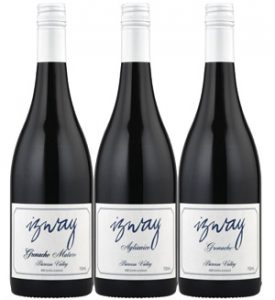 4 x 2017 Blue Label Grenache
4 x 2017 Blue Label Grenache Mataro
4 x 2017 Blue Label Mataro
TOTAL VALUE: $648
(RRP$720)